The Mossman Range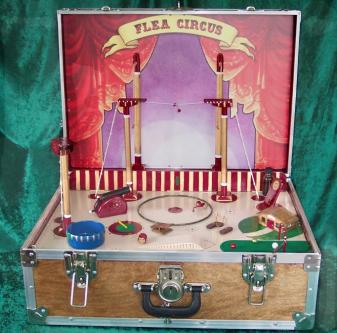 Traditional manual flea circuses
Our mechanical (no electrics) Flea Circuses come ready to show and are complete with "fleas"!

Specially set up for part time performers who require a high quality show with ease of use. All housed in a smart British trunk, our size range is....
Small, 20" wide x 13" deep x 11" high.
£1450 + shipping

Large, 24" wide x 17" deep x 11" high.
£1550 + shipping
(see bottom of page for shipping rates)
Mossman Circuses contain the following acts...

Flea house with light and opening door
Circus ring with chariot pull and flea march
Twin swing trapeze
High wire with climbing ropes
High dive with climbing rope and pool splash
football kick
Our unique flea rolling a barrel up a hill!
A seesaw and swing
Our unique flea raising a match
Firing cannon and dropping target
Balloon Pop
(A Mossman circus control panel)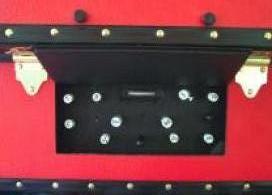 Shipping rates
(Please note. Shipping rates can vary due to location, please ask for an exact price)
Shipping is via UPS, fees include the cost of a custom made wooden shipping crate and enhanced insurance to protect your new Flea Circus.
Small Mossman, UK £130. Europe £130 to £175. USA £195 to £230.
Large Mossman, UK £145. Europe £195 to £230. USA £225 to £260.